| | |
| --- | --- |
| Dead Tank Non-Sulfur Hexafloride (Non-SF6) Vacuum Circuit Breakers | |
The first ever environmentally friendly vacuum circuit breaker

VCB SERIES
Spring/Spring gang-operated
Interrupter Features
No SF6 gas required
Vacuum interrupter
Dry air insulated
Mechanism
Spring/Spring gang-operated
Bushing Type
Porcelain or composite bushings
Tank Type
Cast aluminum tank design
Performance
Tested to 10,000 mechanical operations
Temperatures
-50oC without electrical heaters
Standards
ANSI, NEMA, IEC

VCB Configurations


Voltage

Interrupting
Current

Continuous
Current

72.5kV

31.5kA

2000A

72.5kV

40kA

2000A
| | |
| --- | --- |
| Dead Tank Sulfur Hexafloride SF6 Spring Operated Gas Circuit Breakers | |

HS SERIES
Spring Operated
Interrupter Features
SyncroPufffTM - True puffer design
Pre-insertion resistors available
Mechanism
Spring/Spring gang-operated
3 cycle fault interruption
Bushing Type
Porcelain or composite bushings
Tank Type
Cast aluminum tank design
Performance
Tested to 10,000 mechanical operations
Temperatures
-30oC without electrical heaters
-50oC with electrical heaters
Standards
ANSI, NEMA, IEC


HS Configurations



Voltage

Interrupting
Current

Continuous
Current

145kV

40kA

2000-3000-4000A

145kV

50kA

2000-3000-4000A

145kV

63kA

2000-3000-4000A

170kV

40kA

2000-3000-4000A

245kV

40kA

2000-3000-4000A

245kV

50kA

2000-3000-4000A

245kV

63kA

2000-3000-4000A
| | |
| --- | --- |
| Dead Tank Sulfur Hexafloride SF6 Hydraulic Operated Gas Circuit Breakers | |

HHI SERIES
Hydraulic Operated
Interrupter Features
SyncroPufffTM - true puffer design
Pre-insertion resistors available
Single self-blast puffer (800kV only)
Mechanism
Hydralic
Independent pole operation
Bushing Type
Porcelain or composite bushings
Composite bushing only for 800kV
Tank Type
Steel tank design
Performance
Tested to 10,000 mechanical operations
Temperatures
-30oC without electrical heaters
-50oC with electrical heaters
Standards
ANSI, NEMA, IEC

HHI Configurations



Voltage

Interrupting
Current

Continuous
Current

362kV

40kA

3000-4000-5000A

362kV

50kA

3000-4000-5000A

362kV

63kA

3000-4000-5000A

550kV

40kA

2000-3000-4000A

550kV

50kA

2000-3000-4000A

550kV

63kA

2000-3000-4000A

800kV

50kA

3000-4000A

800kV

63kA

3000-4000A
| | |
| --- | --- |
| Sulfur Hexafloride (SF6) Gas Insulated Metal Clad Switchgear | |

The gas insulated switchgear (GIS) is designed using three-phase common or single-phase enclosures. This ultimately reduces the space required on-site and associated civil engineering costs. The systems are designed and use the same components for both indoor and outdoor applications.






Key Features:

Synchronized axial blast interrupters - increases circuit breaking performance

Hand holes for ready access to interrupter contacts - easier inspection and replacement

Double trip coils - ensures reliable circuit breaking performance

Reliable, spring and hydraulic mechanisms

Disconnect switches are motor operated. Basic design supports no-load switching operation, can include interrupting capacitive charging current, transformer magnetization current and loop current.

Earthing switches can be operated manually, by motor, or by motor spring according to the specification.

The GIS will be equipped with metering and protection equipment including current transformers, voltage transformers and surge arresters

Voltages from 69kV to 550kV
| | |
| --- | --- |
| Generator Main Circuit Breakers | |
The generator main circuit breaker (GMCB) simplifies plant operation by eliminating the need for transferring auxiliary power supplies during startup. It eliminates the starting transformer and associated circuit breakers and isolates the generator if a unit trips or a fault occurs.
Key Features:

Simplified Construction: The breakers feature a simplified construction that minimizes the number of component parts. The system varies from the basic model which consists of a circuit breaker and a disconnecting switch only, to the fully-equipped model which also includes start-up disconnecting switch, current and voltage transformers, earthing switches, lightening arresters and surge capacitors.

Direct coupling to Isolated Phase Bus (IPB) Two methods for coupling to IPB are available, site welding and flexible boots.

Continuous current rating up to 22,000A natural cooling and 44,000A forced air cooling.

Short-circuit withstand current up to 125kA (up to 280kA short-time current for Load Break Switch design).]

The circuit breakers use single pressure puffer type interrupters, operated by three-phase gang operated hydraulic mechanism.

GMCB for pumped storage power plants can be equipped with Phase Reverse Disconnecting Switch and Electrical Braking Switch.
---
TRANSCAN
Digital Fault Recorders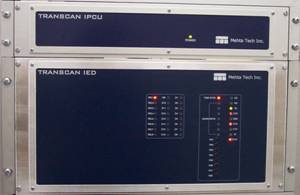 TRANSCAN IED
For Multi-Function, Multi-Speed Recording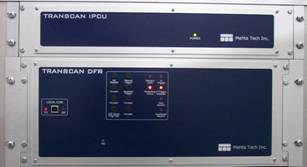 ---
Medium-voltage instrument transformers
We provide medium-voltage instrument transformers up to 72.5kV, for both indoor and outdoor applications. Of metal-clad or metalised design, they include explosion-proof metering voltage transformers for railway vehicles.
Low-voltage instrument transformers
RITZ offers low-voltage instrument transformers of up to 1.2kV.
Current transformers for measuring and protection
We provide a range of current transformers for measuring and protection purpose. These transformers include:
Wound primary CT
Auxiliary CT
Summation CT
Window type CT
CT for switch fuses
Tube type CT
Window type CT for high currents
Multi-range CT
Split-core types for earth fault protection
Split-core CT
Special instrument transformers for measuring
Our special instrument transformers for measuring include three-phase CT, laboratory current and voltage transformers, and voltage transformers. We also provide instrument transformers for bill / tariff metering, and damping inductance devices against ferroresonance.
Cast-resin insulated power transformers
We provide cast-resin insulated power transformers of up to 36kV and 20MVA.
Cast-resin solid-insulated bus bar systems
RITZ cast-resin SIS solid-insulated bus bar systems are available up to 72.5kV and 7,000A. They are especially useful for transmission of higher currents and/or limited space requirements, providing a cost-effective and save alternative to parallel-connected cable systems, metal-enclosed bus bar or bus duct systems.

Cast-resin bus bars benefits
Specific benefits of our cast-resin bus bars include:
Compact design
Reduced requirements for the installation space
Small bending radii
3-dimensional geometric shape is possible
Natural cooling due to effectual conductor design
High operational reliability due to factory routine test of each bus bar
No maintenance
Safety benefits include:
Touch safe
Fully insulated and capacitive graded system
High thermal and dynamic short-circuit current withstand capabilities
Excluded phase to phase short circuits
No toxic fumes in case of fire: self-extinguishing
High operational reliability due to routine test for each bus bar element
Cast-resin bus bar construction and installation
We provide a range of construction and installation for cast-resin bus bars. Installation is simple due to its standardised nature.

Cast-resin bus bar service
cheap stone islandstone island outletstone island black fridaystone island cheapstone island black friday
We minimise the project engineering customers have to do, by providing a complete engineering service for bus bar routing, including a fixation system as a 3D CAD model, complete installation documentation, and supervisor support.